She felt a tingling sensation throughout her body; almost like electricity running through her fingers and toes. With this feeling, a switched was turned on in her mind. It soon dawned on her what was happening; she was returning. It was a slow process but she could feel her heart speeding up to a normal beating pace once again. Her thoughts flashed in her head like a movie. As feeling returned to her motionless body, her thoughts rested on a smiling young man with blonde hair.
Alice slowly opened her eyes. her vision was slightly blurred and her eyelids felt heavy. She weakly lifted her arm and stared at her slender hand.
Alice feebly lifted herself up and sat upright on the bed she was laying on. Her body was covered with aches.
She looked around the room. Alice was all alone in a dimly lit warehouse. Something glinted in the corner of her eye; she turned and noticed a pair of glasses sitting atop a large brown desk. Recognizing them as her own she moved her legs to the side of the bed and hopped to the floor. As soon as she did so her legs gave way and she collapsed.
Having been asleep for quite some time had made her legs weak and the feeling was just now returning to them. Alice dragged herself over to the edge of the brown table. She grabbed it and used it to pull herself to her feet. Taking a deep breath, she picked up the pair of glasses.
Alice took a few steps forward, using the surrounding furniture as support to keep herself from falling to the ground. She felt a chill run down her body. The room was so cold. She was barefoot and dressed in a black spaghetti strap dress. She rubbed her arms to try to warm up as she continued to move through the room.
Soon enough she spotted a pair of black boots lying against an old sofa. Without hesitation she shuffled over and quickly put them on to cover her feet. As she laced them up she felt a sense of déjà vu.
"These.....these are mine."
Alice ran her fingers down the smooth leather of the boot and she closed her eyes. She could vividly remember the day they were given to her; an image of Jack holding them filled her mind. She had been so excited that she immediately put them on and laced them up.
"Jack..." she said, looking at the boots longingly.
"Well well, looks like sleeping beauty's finally woken up huh?"
Alice was startled by the sudden comment. She turned to find Edge casually leaning against the door frame.
"E-Edge!...What are you doing here? where am I? where's Jack?!"
Edge put his hands in his pockets and smiled.
"Whoa there princess, relax. Wouldn't want you to overdo it again."
Alice took a few steps back. She knew exactly how dangerous this man was. She had just been sleeping for god knows how long, and the last person she wanted to run into was him.
"Answer me Edge! what am I doing here!? where's Jack!? and where is my brother!?"
Edge started to walk slowly towards Alice and in turn she continued to back away.
"The boss man's out running a few errands. As for Jackie-boy, hell if I know. He's probably trying to figure out which way is up; guy took a pretty hard hit to the ol' noodle remember? Idiot didn't even remember who I was! Can you believe that ungrateful bastard? After all the time I've invested in our relationship?!"
Edge displayed a exaggerated hurt expression. It made Alice sick to her stomach.
"I see you haven't changed at all. So what happens now? You going to try to stop me from leaving?"
Edge simply chuckled to himself as he stared at Alice. He started to pull his left hand out of his pocket and Alice swallowed expecting a weapon to emerge.
Edge caught sight of her concern. "Relax sweetheart. If I wanted you dead I would have off'd you in your sleep. ...Here, catch!"
Edge quickly tossed a small cylindrical tube into the air and Alice caught it before it hit the ground.
Alice studied the tube. It was frigid and had a small glass window going down its side where she could visibly see a glowing blue liquid inside. There was a pressure gauge attached to the top of the tube. Alice turned the metal tube to its side where she noticed something engraved. upon squinting her eyes she read the words "Property of Vencetech." and immediately gasped.
"This! This is The A.C.E Serum!"
Alice looked up quickly at Edge. he was sneering at her viciously. He made a quick motion with his head for her to look at the door.
Alice's eyes trembled, she couldn't comprehend the current situation at all.
"Get lost?...wait...You mean leave? Just like that? This isn't making any sense! Aren't you working for my brother? And... this, isn't this the ACE serum my brother stole? why are you just giving it to me?"
Edge began to casually pace toward the room window. He took his combat knife out of his pocket and began tossing it in the air and catching it. With his back turned to Alice, he started to speak.
"You and Jack been looking for that for quite some time right? Well now you have it. Doesn't matter how and it doesn't matter why. Now, I'm only going to say this one more time. Scram, before I cut you down were you stand."
Alice still was at a loss but she was not going to stick around to see whether or not Edge planned on carrying out his threat. She ignored the weakness in her legs and quickly scurried out the door.
Edge was left alone in the room.
As He looked out over the harbor he began to laugh to himself. What began as a small chuckle quickly escalated into maniacal laughter.
"Shit is about to get pretty interesting around here. don't disappoint me Jack."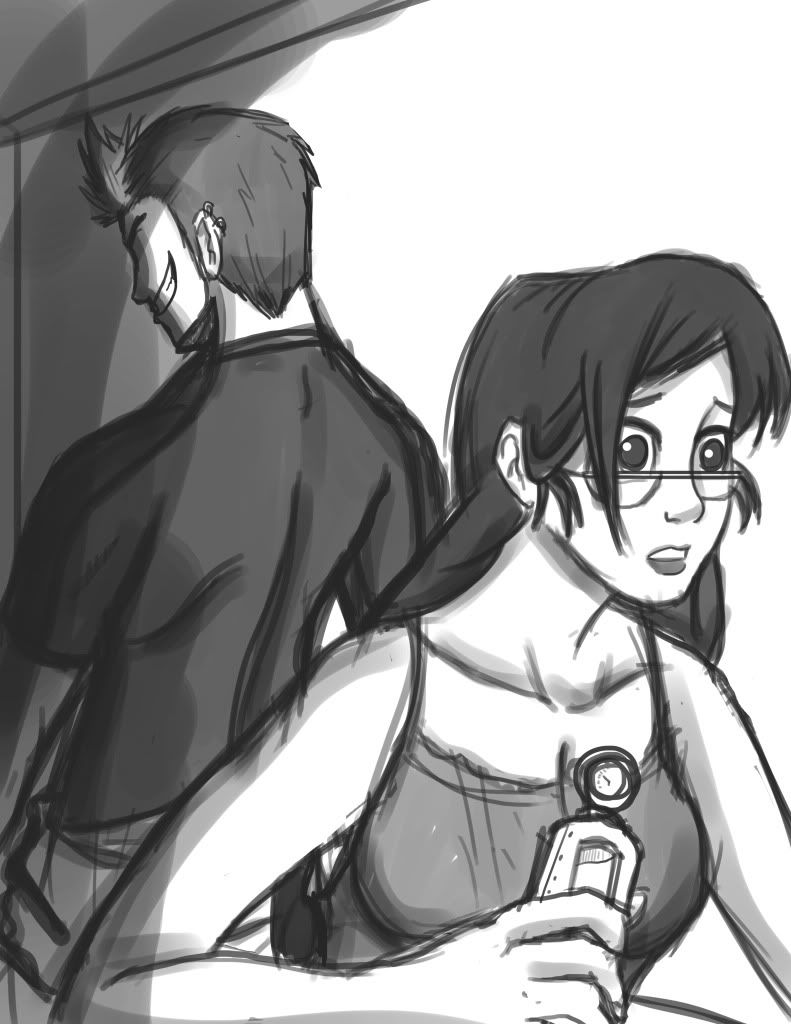 It was the early afternoon; the bank was beginning to get more and more crowded as the day went on. It was just another busy routine day. Two security guards were posted at the entrance and casually greeted people as they entered the room. Among these people was a young man wearing a dark red hoodie, cargo pants and a laptop bag hanging off his shoulder. He had dark brown hair and blue eyes and was wearing a peculiar hat with cat ears attached to the top.
Leon had been waiting in a long line of people in front of the bank teller desks. Ignoring the commotion around him he seemed to be lost in his own world as he played around with a portable gaming device. His fingers moved quickly as he moved his arms around, completely lost in his game. After a few moments a big smile came over his face and he threw his fists triumphantly into the air and shouted.
"AW YEA! DISTORTION FINISH BITCH!"
Leon opened his eyes and noticed almost everyone in the bank had gotten quiet and was staring at him. His excited smile quickly turned into an embarrassed one as he slowly lowered his arms.
"Heh heh. Uh... my bad... just a sick combo you know?" He said as he pointed to his game screen.
The people around him had no idea what he was talking about and turned their attention back to their own matter, many of them with expressions of bewilderment. Leon scratched his nose and began putting his game into his bag. As he did so he noticed his sketchbook filled with drawings and storyboards. The sight of them made him feel melancholy and he sighed to himself.
Leon had Just come out of an interview with a potential comic book studio. Being an artist was a difficult lifestyle, that coupled with his stubbornness against finding a secure salary-based job was not making things easier. For the most part his interview went well but the studio wasn't all to impressed with the story he presented. Seemed the possibility of a call back was less than likely.
His train of thought was interrupted as he spotted three men walk into the bank. Leon watched as a tall man leading the other two stopped in front of the two guards and lifted his arms. Both guards instantly lift into the air and slam against each other; instantly being knocked out.
Leon's jaw slowly dropped and he looked around. No one else seemed to notice what just happened.
"Whoa...what did I just see?"
King adjusted his tie and looked to his associates. He gave them a quick glance and the two of them nodded and walked past him toward the center of the room.
Heatstroke cracked his knuckles and raised his hands slowly. As he does, thick flames begin to ignite in his palms and soon both his hands are engulfed in flames. He raised his fists and a torrent of flames blasted forth.
Almost instantly, people panicked and immediately dropped to the floor holding their heads and screaming. Raijin lifted his finger and began shooting bolts of electricity at the security cameras mounted on the ceiling.
Leon held his hands over his heads as debris from the ceiling came crashing down; he looked up as the man that led the others, begin to float up into the air.
"Oh man! Is this for real!?"
King slicked his hair back and smiled at the ensuing carnage. He folded his arms and began to speak.
"Good day ladies and gentlemen, allow me to introduce myself. My name...is KING. I do apologize for any inconvenience but I'm afraid you all will have to step aside as me and my associates make a quick withdrawal from this fine establishment. Stay where you all are and no harm will come to you, make any moves against me and my men and you will be made an example out of. I thank you for your co-operation."
Leon swallowed as he looked around and tried to assess what kind of trouble he was in. Men and women were on the floor trembling in fear. There were even children crying and clinging to their parents. Leon thought for a moment; if he could reach into his bag and call for the police there might be a way out of all this. He had to be careful though, it was bad enough that the bank was being robbed by people with superpowers... if he got caught, that would be it for him.
At that moment, almost as if it were a cruel joke by God, his phone began to ring. Leon's heart nearly jumped out of his chest. He quickly dug into his bag and answered it with a whisper.
"Hey is this Leon? How's it goin' man my names Jack. I'm friends with your sister, you know, the really beat up guy she brought over yesterday? Anyway she uh kind of lent me an old phone of hers and I saw your name in her contact list so I thought I'd call to thank you for helping me o-"
"Dude! Forget everything you're trying to say to me right now! Shut up and listen! Bank robbery! Super villains! Stranger danger! We need help like now!"
"Robbery? Super... villains?! Whoa! What bank is it? are you hurt?!"
"Never mind that! Get the cops, the army and wake superman's ass up and tell em' to come to the bank on 3rd Ave. The situation is bad yet strangely awesome!"
"Whoa calm down! Leon you're not making sense!"
"Gah! stop being such a noob and listen to what im sayi-"
Before he could finish Leon's body lifted off the ground and hovered.
Leon flew forward and stopped abruptly in front of King. The young man only smiled as he held onto his phone. King smiled back.
"Did I not say that if anyone made a move against me, I'd make an example out of them? Now what do you suppose I should do with you, young man?"
Leon glanced around quickly. "You're' not uh... going to hit me with a freeze ray or something are you? I mean it'd be awesome... but it would suck too, know what I mean?"
King's smile grew larger as he attempted to hold in his laughter. He looked at Heatstroke and Raijin and they began to laugh with him.
"Hm hm. Amusing. I suppose I'll let you off this once... however..."
Leons phone flew out of his hand and hovered in the air next to king.
"Let's not attempt to be a hero again shall we?"
With that said, Leon's phone is crushed. The pieces fall to the ground as Leon watched with a defeated expression.
"Aw dude, weak! I had like 3 more payments on that!"
King raised his finger and flicked Leon on the forehead which sent him flying backward and sliding on the marble floor and into a group of people.
Leon's bag had slipped off when he was thrown. Most of the contents had spilled out.
King looked down and picked up one of the comic books that had fallen out. he flipped through it and chuckled.
"I suppose we'd be considered the villains in this scenario. Soon enough that will all change. now then..."
King turned his head and addressed his attention to the vault behind the teller booths.